Jesus Gave Himself for the Church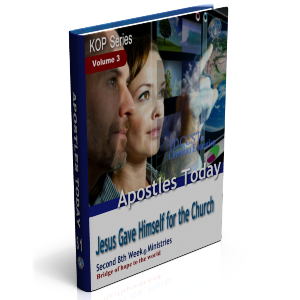 Lesson 3 of 13
Jesus gave Himself for the church; Jesus shed His blood upon the cross; "Who gave himself for us, that he might redeem us from all iniquity, and purify unto himself a peculiar people, zealous of good works." (Titus 2:14) How does Jesus purify to Himself a people who are zealous to serve Him? We know that Jesus redeemed us to God by the blood of His cross and that all who believe in Him are saved. "Unto him that loved us, and washed us from our sins in his own blood." (Revelation 1:5)
Now, you may be wondering, "OK, Well, if Jesus shed His blood for our redemption, why then do we need apostles? The church began with the apostles' doctrine as we read in Acts 2:42. It was the apostles that gave the knowledge of salvation for faith; "Who will have all men to be saved, and to come unto the knowledge of the truth." (1 Timothy 2:4) Sinners need knowledge to be saved, and believers need knowledge to live unto God and grow in His grace. This knowledge is holy because it reflects Jesus Christ perfectly.
Jesus is the Head of the Church
"For unto us a child is born, unto us a son is given: and the government shall be upon his shoulder: and his name shall be called Wonderful, Counselor, The mighty God, The everlasting Father, The Prince of Peace." (Isaiah 9:6)
Spiritual government sits upon Jesus' shoulders, which means that the oversight of the church is Jesus' responsibility. His plan has always been to counsel the heart in faith by first setting His truth as the foundation or pillar in the heart, and to accomplish this through His apostles.
By this due order Christians receive the knowledge of the one truth, which is Christ, learn how to function in their priesthood, how to walk and please God according to Christ's covenant, and continue in Jesus' spiritual covering. This is seen by their increase in the grace of God and how the soul cease struggling against the flesh.
By the same token, when the church deviated from this divine order and received doctrine from those who were not called as apostles, believers lost Jesus' headship over the church and His spiritual covering.
"Woe to the rebellious children, saith the Lord, that take counsel, but not of me; and that cover with a covering, but not of my Spirit, that they may add sin to sin."
(Isaiah 30:1)