The Armor of God for Spiritual Warfare
The Works of the Covenant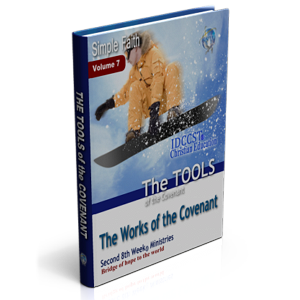 Lesson 7 of 12
We are the generation of which the Lord spoke and prophesied concerning the return of the church to the true order of faith and the true works of the Second Covenant, that believers may again experience the fulness of Christ. Jesus said it Himself in the book of Revelation, "Nevertheless I have somewhat against thee, because thou hast left thy first love. Remember therefore from whence thou art fallen, and repent, and do the first WORKS; or else I will come unto thee quickly, and will remove thy candlestick out of his place, except thou repent" (Revelation 2:4-5).

We must first establish the fact that there are works in connection to faith, and then we will make the connection between these works and the tools of the covenant. God is bringing healing and restoration to the church in this area of "works". God is exposing every false work of Satan peeling back every deception where Satan cleverly hides his false knowledge and by which he keeps faith in bondage to his lies, keeps believers busy working with the wrong things, and makes faith stagnant and void of life.

One of Satan's deepest deceptions is in the area of "works". There is perhaps no greater confusion among Christians than the controversy of faith versus works. Satan cunningly plays both sides of the argument to keep every believer busy defending error. First Satan preaches that works are not necessary because salvation is a work of grace and that we cannot earn our salvation, drawing from Apostle Paul's epistle, "For by grace are ye saved through faith; and that not of yourselves: it is the gift of God: Not of works, lest any man should boast" (Ephesians 2:8-9).

Second, Satan preaches that the Bible makes it clear that there must be a balanced relationship between our faith and its expression in good works, drawing from Apostle James' epistle: "For as the body without the spirit is dead, so faith without works is dead also" (James.2:26).

Those who believe that works are not required for salvation to be experienced hold to the argument that all that is necessary is to believe: as long as they have faith, it does not matter how they live. Others, who believe that works are necessary, hold to the argument that God cares about our lifestyle and that our life should be an outward witness of Jesus Christ.

What is so clever about Satan is that he always sows a little truth with his lie so that we embrace his false knowledge based on one or two things he has woven into the lie that was true:
It is true that there is nothing man can contribute to salvation. Jesus has done all the work. The steps of conversion from sinner to saint was purchased by the blood of the Lamb. God only values Jesus Christ. He only is the perfect standard of God. Therefore, God never weighs faith on any other scale than Jesus Christ. When we measure our faith to Him our faith is perfect.
It is true that works are required simply because God demands our participation in His plan in order for the work of the cross to take place in our hearts. These are the works of the covenant, and they are called "good" because they represent Jesus Christ and not ourselves. But we must be careful here when talking about faith and works, not to think that we are contributing anything of our own person to faith, or confuse the works of the covenant with the works of debt or the works that adorn the doctrine of Christ.

There are 4 different kinds of works that the Bible talks about:
1. The works of Moses (these are the works of debt)
2. The works of the flesh (these are also works of debt)
3. The works of the covenant
4. The works that adorn the gospel of Jesus Christ.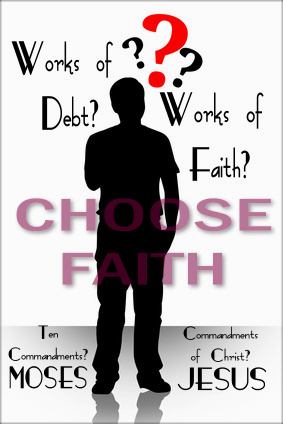 The distinctions between these works will be studied fully in a later course. Our goal here is to focus on the works of the covenant, which Jesus talked about. These are the same works that James preached when he said, "For as the body without the spirit is dead, so faith without works (of the covenant) is dead also."

Faith has to be joined to that which makes it living. It is Jesus that makes faith living, so faith must be joined to Him for us to know Him and claim salvation in His name. Jesus, when teaching about this said, "And this is life eternal, that they might know thee the only true God, and Jesus Christ, whom thou hast sent," (John 17:3). Here Jesus was emphasizing that eternal life is about knowing God through Jesus Christ.
So many think about eternal life as the here-after and contemplate what heaven must be like and what one must do to be esteemed by God as worthy of eternal life. But Jesus did not define eternal life as the here-after, He defined eternal life as knowing God. By defining eternal life as knowing God, Jesus was directing faith into a relationship with God through Himself. He knew that by His death and resurrection He would be the contact point for faith, and He knew that faith is only living if it is connected to Him.

And this is why He promised, "He that hath my commandments, and keeps them, he it is that loves me: and he that loves me shall be loved of my Father, and I will love him, and will manifest myself to him." Can you now see the connection Jesus is making between knowing God and our need to stay connected to Him so Jesus could manifesting Himself to us?

But you know, many people do not want to be responsible to the covenant of Christ; they do not want to take responsibility for their faith, and so they say, "The presence of Jesus is all you need." In reality, they don't experience His presence and don't know what to do to enter into His presence. This is why we see believers flock to this or that conference, or listen to Christians bands, or join the choir. They are wandering, still looking for the presence of God.

Let's stop and think about what Jesus was emphasizing further when He said He would "manifest" Himself to those who keep His commandments. When Jesus taught that when we keep His commandments He would manifest Himself to us, He was emphasizing that
• His presence cannot be experienced apart from the terms He set for that manifestation.
• He must reveal Himself to us, for we cannot express faith in Him apart from Him.
• He must be the expression of our faith.
• We cannot say we have faith in God through the knowledge of Jesus Christ, but not experience His manifestation to us.
• Faith must take the form of the Second Covenant commandments (which are the works of the covenant).
• Our faith has no life of its own; it is Jesus who gives it life.

We can now also understand why Jesus goes to extremes lengths to place before us restrictions upon faith, saying that we need to demonstrate our love for Him in specific ways (by keeping His commandments).
| | |
| --- | --- |
| | |