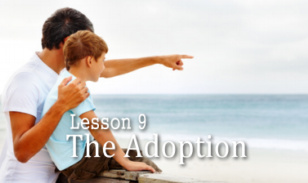 What is covenant? God has many things to teach us about what it means to come into covenant with him and what happens when He gives us the token of the Spirit. Just as God uses marriage to illustrate the fruit He desires to come forth of His union with us (Christ being formed in the inner man), so He also uses the illustration of family to show us His position as "father" and "parent" to show us the manner of His love, which is to nurture, chasten, and train us in His ways that we may, by this process, take on His likeness.
God is our heavenly Father, and by faith in Jesus Christ, we are born again into His spiritual family to take residence in His house of faith now; And by that same token we are later invited to take residence in His eternal abode. The promise of eternal life is to those who follow the due process of the adoption, and each person seeking entrance into the family of God must follow the same 4 steps of our father Abraham to qualify as sons and daughters of God. Having said all that, let's look at how the Spirit of the Lord brings that out through the writings of the Apostle Paul.
Romans 8:15-17
15 For ye have not received the spirit of bondage again to fear; but ye have received the Spirit of adoption, whereby we cry, Abba, Father.
16 The Spirit itself beareth witness with our spirit, that we are the children of God:
17 And if children, then heirs, heirs of God, and joint-heirs with Christ; if so be that we suffer with him, that we may be also glorified together.
Galatians 4:5
To redeem them that were under the law, that we might receive the adoption of sons.
Ephesians 1:5
Having predestinated us unto the adoption of children by Jesus Christ to himself, according to the good pleasure of his will.
Just as the Holy Spirit is the token that seals the vow of the marriage covenant with God, we are instructed in Romans 8:15-16 that this same token (Holy Spirit) effects the new birth into God's house. So then, we are born again into God's house and kingdom at the time God baptizes us with His Spirit. Know this: You must have the Spirit of God in you for God to claim you as His own.
The True Christian Experience
The pattern of God's truth is clear: When you are baptized in the Holy Spirit the Spirit of God enters into you. This is when God adopts you as His child; this is what it means to be born again. This is the true Christian faith and the true tradition of Christ and of His Spirit.
Don't let these different analogies of covenant (marriage and family) confuse you. God is bringing to your understanding many things about His relationship with you: your union with Him, your transition from the kingdom of darkness into His kingdom, your eternal inheritance, the promise of life in Jesus Christ, your position as son or daughter in His house, how you are to labor with the Spirit, and how Christ is to be formed in your heart.
Your free courses with Second 8th Week Ministries will help you learn all about the Second Covenant and answer any question you might have about covenant faith. Every day, as you pray in tongues, the Spirit of God is searching the soul for the damage done by Satan and making intercession for you concerning the healing that needs to take place. Pray in tongues every day, increasing your prayer time as much as possible. Set a goal to pray in tongues an hour a day.
Last Revised: 2011-10-22