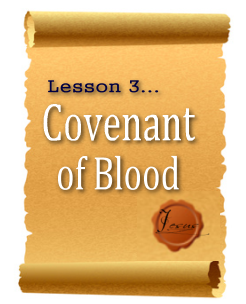 What is covenant? To save us from the kingdom of Satan and power of sin and translate us into His own kingdom and house, God had to set terms whereby He would bring us back to Himself. He made a covenant of blood. God established early a testimony that the life of the body is in the blood.
"For it is the life of all flesh; the BLOOD of it is for the LIFE THEREOF: therefore I said unto the children of Israel, Ye shall eat the blood of no manner of flesh: for the life of all flesh is the blood thereof: whosoever eateth it shall be cut off." Leviticus 17:14
We Have Life Through the Blood of Jesus

God did this to preach to us Jesus Christ, that when He would come we would have life through His blood. God elected blood to atone for sin and bridge the offense. We can understand God's thinking, "Through sin I separated you from Me and now I have to bring you back to Me. I have to atone you to accomplish that."
God Elected the Smiting of Jesus to Release His Blood

"And almost all things are by the law purged with blood; and without SHEDDING OF BLOOD is no remission." Hebrews 9:22
When Jesus shed His blood He was releasing us from the curse and penalty of sin while at the same time, releasing to us His life that we might live through Him. Isaiah prophesied of Jesus saying, "Surely he hath borne our griefs, and carried our sorrows: yet we did esteem him stricken, smitten of God, and afflicted. But he was wounded for our transgressions, he was BRUISED for our iniquities: the chastisement of our peace was upon him; and with his stripes we are healed." Isaiah 53:4-5
God Preaches to us the Smiting to Release

God preaches to us this smiting to release in that an egg needs to be smitten for its life to be released for our breakfast table. An orange needs to be peeled to release its fruit, a coconut needs to be cracked to release its meat, and Jesus was smitten to release His life giving blood.
To be saved you must believe this testimony, that Jesus was smitten for your redemption to release you from the penalty of sin, to join you back to God, and to release His power of life to you.
"Of how much sorer punishment, suppose ye, shall he be thought worthy, who hath trodden underfoot the Son of God, and hath counted the BLOOD OF THE COVENANT, wherewith he was sanctified, an unholy thing, and hath done despite unto the Spirit of grace?" Hebrews 10:29
The New Testament (Covenant) Established in Jesus
What is covenant? Covenant establishes Jesus Christ as our new tradition for faith. 1 Corinthians 11:25, "After the same manner also he took the cup, when he had supped, saying, This cup is the new testament in my blood: this do ye, as oft as ye drink it, in remembrance of me."
Jesus, at the last supper was transitioning the church from Moses to Himself. When Jesus took the bread and the wine, it symbolized HIM. "You are to remember Me now – Not Moses." I am your new tradition – bread is not your tradition – I AM your tradition. Moses is not your tradition – I AM your tradition – wine is not your tradition –I AM your tradition. He then went to the cross to shed His blood to seal the covenant in Himself.
The Blood of the Covenant Cleanses From Sin
"The blood of Christ cleanses us from all sin," 1 John 1:7. The liquid substance has no power in it. The power is in the covenant. The blood of Jesus purchased the covenant whereby God set the terms of our contact with Him.
The power is in what Jesus purchased for us through the shedding of His blood on the cross. Jesus was the Lamb provided for our sacrifice, that's why His blood was accepted and why God took Jesus' blood and sprinkled it upon all the tools of the New Covenant.

True Repentance
From this we gain a true definition of repentance: it is a turning away from a former knowledge to embrace the covenant knowledge God provided in Jesus Christ for our contact with Him.
Repentance is an abandoning of our former confidence with religious and philosophical knowledge that confirmed who we are to turn and accept the one truth and covenant knowledge that confirms who Jesus Christ is.
Repentance is an act of the will under the influence of grace to acknowledge that there is no other way to God than through Jesus Christ; it is our willingness to set aside our former prejudices to follow Jesus in this new way of covenant faith.
Romans 2:4 reads, "…the goodness of God leadeth thee to repentance." Know this: that God leads you to repentance by giving you grace, but seals your repentance by giving you the Spirit. Read Lesson 4:4 Steps to Covenant Faith to find out more about the importance of God sealing your repentance with the Spirit.
Last Revised: 2012-10-18