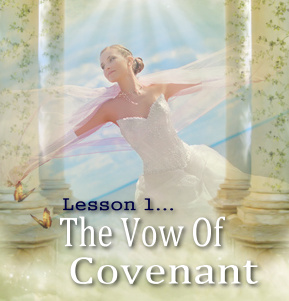 The Marriage contract is an excellent way in which God helps us to understand the vow of covenant. A marriage, as we know, is a celebration of the union of two people who have made a commitment to seal their love with vows to pledge themselves to each other. Their love is brought into a binding covenant of marriage, and the bond of their love is witnessed by a token that is given. This token is most often a ring.
From the beginning, the wedding ring was given as a token of possession, usually worn by the wife to symbolize that she was in possession of something valuable given to her by her husband.
Entering into the New Covenant relationship with God is much like that. Jesus is the Groom and the believer (you) is the Bride. God established the grounds for this union to exist, made promises of His commitment to you, and then provided a token as a witness of His love. This token is the Holy Spirit.
Thy Maker Is Thine Husband

Consider also Isaiah 54:5, "For thy Maker is thine husband; the Lord of hosts is his name; and thy Redeemer the Holy One of Israel; The God of the whole earth shall he be called."
God desires to give you a token that symbolizes that He has taken ownership of your soul and brought you into His care, thus setting the seal of His love upon your soul and His seal of approval upon your faith. He does not give us a ring does He? He gives us the token of His Holy Spirit. You will learn more about the token of the Spirit in What is Covenant: Lessons 6-8.
Just as the wife takes a vow to build the house of her husband, so also do we make a vow to build the house of God. What comes forth of this building is the fruit of the union. This is why Jesus set our focus of faith upon the fruit of the Spirit being formed in the inner man when He said, "Herein is my Father glorified, that ye bear much FRUIT; so shall ye be my disciples." John 15:8.
To Keep the Vow of Covenant Requires Knowledge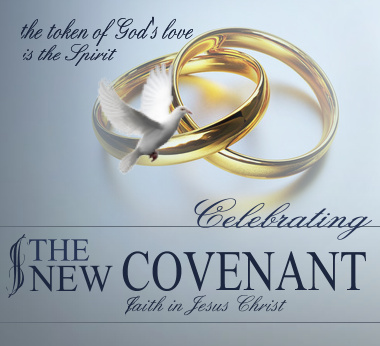 Have you made a vow of covenant with God? Most believers today are confused because they are not experiencing what the Bible describes a Christian should be experiencing once they made a faith decision.
The problem is that 99.99% of all conversion prayers ask the repentant sinner to "ask Jesus into their heart" and do not explain how to come into covenant with God. The sinner is not led into covenant faith, but into some form of the current Christian culture and becomes lost in the ebb and flow of false doctrine.
To keep the vow of covenant with God requires the knowledge of truth and the function of your priesthood and is the reason why a Christian needs to be instructed in the faith of Jesus Christ by living apostles today.
When Christians know only the "sinners prayer" but not the vow of covenant, they do not have His token of the Spirit and so the taste of grace, (first love) which God gave to draw them to Him begins to fade and they begin to cry out, "Where are you Lord?"
When you are in covenant with God, He sustains His relationship with you through your priesthood, which the Holy Spirit actively oversees as the anointing, to establish your heart in all the good things of Christ. Covenant faith works with the Spirit the holy fruit of Christ in you.
Does God Really Consider His Covenant as a Marriage Contract?

When apostles no longer taught the church, the traditions of man seeped into faith and believers no longer thought about being in covenant with God or the terms that God set in place for our union with Him. Let us consider what the Spirit says in Jeremiah 3:14, "Turn, O backsliding children, saith the Lord; for I am married unto you." So we see that God does indeed use the marriage contract to describe covenant relationship with Him.
Yah But...............

Many Christians are obviously baptized with the Holy Spirit and speak in tongues. I hear them saying, "Yah but....I am baptized and speak in tongues, am I in covenant with God?" The answer is that to be in covenant with God requires the 4 steps you are going to learn about in lesson 4 and it requires knowledge of the terms God established for Christ to be formed in you. Covenant knowledge is the whole machinery of God's kingdom. Without the machinery of stewardship, priesthood, and spiritual tools to exercise your faith through your cycles of growth your circumcision becomes uncircumcision because it is the knowledge and tools that join you to God through the Spirit.
If you are baptized in the Holy Spirit, but have not been instructed in the use of this divine token, nor have they been instructed in their priesthood, your love for Jesus is soon swept away into Baal's bed where Satan's false knowledge is allowed to solace the soul. Just as God identified the backsliding children of Israel as those who departed from Him so He identifies Christians today who say they know Him, but serve Baal. God is again calling them out of Baal's house and Baal's bed to mate with His Spirit only.
Last Revised: 2012-06-28