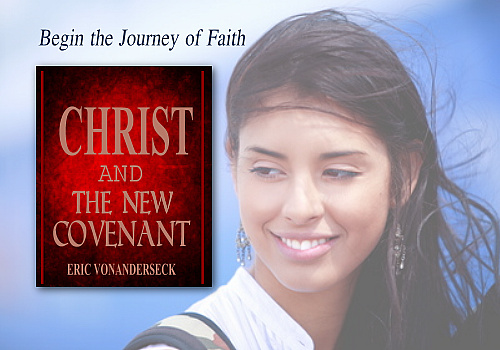 Begin the Journey of Faith: Christ and the New Covenant

What is covenant? We are of course speaking of Jesus' New Covenant (the Second Covenant). What is this New Covenant all about? What is its purpose? What does the Bible say about it? Your journey of faith begins when you come into covenant with God.
We know that the idea of God making a covenant with man by faith might not be understood by everyone. What does it mean to come into covenant with God? What happens when you come into covenant with God? How is covenant faith different from other Christian faiths?
I would like to begin explaining covenant faith by talking to you about your desire for God. We desire God to be with us in times of need, to strengthen us in times of temptation, to be our shield. We also desire God to empower our faith and we most of all desire to experience a true and living relationship with God.
The Lord would say: "I bear with you in this time of trial that in the time of temptation My comfort is your shield." Paul said it this way, "Who comforteth us in all our tribulation, that we may be able to comfort them which are in any trouble, by the comfort wherewith we ourselves are comforted of God," 2 Corinthians 1:4.
The Lord would also say: "Satan comes to confound the mind to drive it with the affairs of this life, but I give grace, peace, and wisdom, and I fill your soul with the substance of My kingdom." Paul wrote, "He (Jesus) said unto me, My grace is sufficient for thee: for my strength is made perfect in weakness. Most gladly therefore will I rather glory in my infirmities, that the power of Christ may rest upon me," 2 Corinthian 12:9.
We can see that God made faith an experience with Him. People want this experience, but there is a condition: you have to be joined to God in covenant. A union needs to take place between you and God in order for this experience to take place. What God says about you, what you know about God, what God does for you, what passes between you and God as friends describes a relationship--a covenant relationship.
God Reveals How to Serve Him Acceptably in His New Covenant

God reveals to us how this relationship takes place with knowledge and this knowledge is in His New Covenant. Though many seek to please God through the text (scripture), it is the text that points us to serve Him in His covenant, which requires submission of faith to remove the cloud of ignorance that sits as a mist on the mind. The imagination will not birth substance in the soul nor cleanse the conscience, but faith in His covenant sets forth a pattern of wholeness in the heart as the true mark of Christ.
What is covenant? Nine easy lessons will guide you through the covenant contract between you and God so that you will clearly understand what it means to come into covenant with God, understand when this relationship begins, and understand the commitment you are making to God and the commitment God is making to you. You will learn about the token of the Spirit that bears witness to your union with God and how God sustains His relationship with you. After you have completed the nine lessons you are invited to pray a prayer to exercise your faith and make a commitment to come into covenant with God to walk with Him.
Nine Easy Lessons to Guide You Into Covenant Faith
Lesson 1 -- The Vow of Covenant:
The marriage contract is an excellent way in which God helps us to understand the vow of covenant. Learn why God compares being in covenant with Him to a marriage union. Learn how God takes ownership of your soul and learn to identify the token His gives to represent His love for you. Have you made a vow of covenant with God?
Lesson 2 -- The Covenant Contract:
Learn what covenant relationship with God means by considering how a contract works. God set terms for our faith that must be understood and abided in. Do you know what the terms of the New Covenant are?
Lesson 3 -- A Covenant of Blood:
To save us from the kingdom of Satan and translate us into His own kingdom and house, God had to set terms whereby He would bring us back to Himself. He made a covenant of blood. Learn more about the covenant of blood and why God elected blood to atone for sin. We can then understand why the blood of Jesus Christ cleanses us from all sin. What does it mean to accept the blood of the covenant?
Lesson 4 -- 4 Steps to Covenant Faith:
Few Christians understand that God provided 4 steps for Abraham to come into covenant with Him and then, in the epistles, instructed the church in these same "steps of our father Abraham". Learn the 4 steps to enter into covenant with God. Are you saved if you did not follow each of these 4 steps?
Lesson 5-- God Has Always Been a Covenant God:
God has always been a covenant God. Both in the Old Testament and in the New Testament God uses the word "covenant" to let us know that which He has bound Himself to for our experience. Do you serve a denominational God or a covenant God?
Lesson 6 -- God Seals Your Faith With the Token of the Spirit:
God gives a token to seal each covenant. What token does God give each Christian to let them know He has accepted their faith? The covenant token God gives you is not a ring, but the token is the Holy Spirit. Learn more about how God seals your faith with His Spirit.
Lesson 7 -- The Baptism of the Holy Ghost is Evidenced by Tongues:
When God brings you into covenant with Him through the baptism of the Holy Spirit, evidenced by tongues, He is saying, "By this covenant I act." If you want God to give life to your soul, to direct you in faith, and to sustain your faith, then the first step is to accept His conditions of faith, receive the token of the Spirit, and begin to pray in tongues. This vital truth has been hidden for generations and is now made known to the church today by God's living apostles.
Lesson 8 – The Purpose of Tongues:
Learn why God gave tongues as a sign of the baptism and seal of your faith. What does the Spirit do when you pray in tongues? How often and how long do you need to pray in tongues? This vital truth has been hidden for generations and is now made known to the church today by God's living apostles.
Lesson 9 – The Adoption:
Just as the Holy Spirit is the token that seals the vow of the marriage covenant with God, so too, the baptism of the Holy Spirit is again the token that seals our new birth into the family of God. Learn how that through covenant faith God takes the role of Father and accepts you into His family as His son or daughter.
Prayer For Salvation:
We welcome you to pray this prayer to communicate to God your desire to come into covenant with Him and your desire to learn everything you can about how to serve Him acceptably according to the terms He provided through Jesus Christ.
Last Revised: 2015-01-23