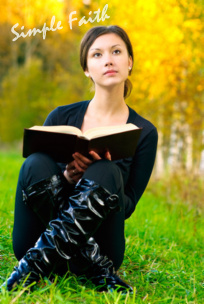 About Simple Faith - Lesson 2
Function
Consider knowledge as building material

God's knowledge must not be as a pile of wood sitting on the ground. Otherwise, it will be of no use to you or to God. Just like wood takes the frame of a house for you to function in the house, so also knowledge must take a frame for you to function in God's kingdom.

When wood takes the frame of a house you can enter into the house and use all of its functions freely. You can cook and eat your meals in the house, be warmed, have light, take rest, and enjoy companionship. You can cleanse yourself, work, and play in the house.

In addition, when you move into your house you bring with you all your precious things and fill your house with your substance. Can you see? The frame is for function, and the result of that function is substance by which you increase.

God's knowledge is that way. The frame of knowledge is designed by God for you to function in His kingdom that He may fill your soul with His substance by which you increase. The knowledge we embrace produces substance in the heart.

Substance
Consider knowledge as substance.

"Faith is the substance of things hoped for, the evidence of things not seen," Hebrews 11:1. Let's talk a little bit more about "substance" to be sure we understand what God is getting at. When God talks about substance He is emphasizing "contents".

The substance of God's kingdom is the contents of God's knowledge, what His knowledge consists of. Faith needs that substance to reciprocate.

If knowledge is a refrigerator, the substance is the food (contents) of the refrigerator. The knowledge of this world is like filling your refrigerator with spoiled food or things that are not edible like straw, or nails, or rocks. Your body could not use this substance to build.

On the other hand, if the food (contents) of the refrigerator is milk, fresh fruits, vegetables, grains, and meats, this substance will benefit your body when you eat it.

Spiritual Labor
Understand how the mind functions with knowledge

The chewing of food is often related to how the mind chews or turns over knowledge. The mind functions with knowledge. Our thinking processes is spiritual labor. The soul is never at rest. When the mind stops, you are dead. The substance in your soul is conditional. It all depends on the substance of knowledge that your mind works with.

The knowledge the mind works with determines whether we will be alive to God or dead to God. A young man in his mid 20's once asked, "Why is it that I feel dead? I feel dead in myself. I have no feelings of life in me."

False knowledge will not produce the substance of life in you. So, all the knowledge of the world this young man was using was actually numbing his emotions. We can be sure that being of that age he found a lot of things to pour his emotions into, but it all left him feeling empty inside and dead towards God.

The knowledge of this world is like a corpse—it is dead. There is no substance in the knowledge of the world that we can use to reciprocate to God, whereas in the knowledge of God, the substance is there, and it reciprocates. The knowledge of God produces faith, and faith is a reciprocator—it responds. A corpse does not respond.

Satan promises that his knowledge will bring life and that you will feel full and complete and whole and abounding in hope, but it can only deliver temporal fulfillment. The soul knows its Maker and will never be satisfied with anything less than God Himself.

The knowledge of this world cannot produce the substance of Christ—it cannot produce Christ. The knowledge of this world cannot leave any substance in the heart for faith. And this is why the heart feels empty and void of life. This is why many people ask, "Why is it that I feel dead in myself? I have no feelings of life within me."

On the other hand, the knowledge God gives will produce a substance because it was designed that way. By His divine power we reciprocate His likeness.

Currency of God's Kingdom
Consider what you are purchasing.

Knowledge is the currency (substance) of God's kingdom, and the only thing you can purchase is the likeness of Christ—His nature. The nature of Christ is what man was created for and desires. As stated, God created you for Himself, to reflect His likeness. You will not be satisfied with anything else. An atheist's denial of God does not remove the seeking that the soul has for Him.

The Spirit of the Lord brings to our minds the need for knowledge for us to experience the Christ-likeness by preaching through Peter saying,

"According as his divine power hath given unto us all things that pertain unto life and godliness, through the knowledge of him that hath called us to glory and virtue: Whereby are given unto us exceeding great and precious promises: that by these ye might be partakers of the divine nature, having escaped the corruption that is in the world through lust," 2 Peter 1:3-4.

Can we even try to describe the greatness of the nature of God, which He wants to share with us so we will be His friends? It truly is indescribable, yet He makes it so simple for us to obtain the likeness of Christ by giving us the knowledge that reciprocates His likeness.

Faith is living when it expresses the likeness of Christ. Faith needs the contents of the knowledge of Christ to do this. This is God's promise to you: I'm going to provide you knowledge as the substance of Myself. This knowledge is My likeness. Will you labor with it? By the power of My Spirit I will join Myself to My word to bring forth life in you. By this knowledge your faith is alive. It is vigorous, it is eager to please Me—not in the flesh, but by the Spirit. God brings us to understand that it is by His divine power we reciprocate His likeness.

Identify Christ
Prepare yourself for the important step of learning the 12 Foundation Stones.

We have been talking a lot about the nature of Christ and the likeness of Christ how it is formed in you when you reciprocate His knowledge. Jesus Christ takes the form of this knowledge, which the Holy Spirit uses to form Christ within. Your faith in God is dependent on you using this knowledge to identify Christ.

It is helpful to draw from the natural world to explain this. Take for example gold. We know that gold is malleable. It can be taken and melted and then shaped to form a crown, or a ring, or a coin, or a cup. No matter what form it takes, it retains its original value. It's still gold! The same is true for the knowledge of Jesus Christ.

Just as you can identify the gold no matter what shape or form it takes, you can always identify Christ in His knowledge. There are 12 Foundation Stones of knowledge that God sets in order for our understanding Jesus Christ. They are:

(1) Grace (2) Faith (3) Righteousness (4) Justification (5) Sanctification (6) Holiness (7) Peace (8) Rest (9) Charity (10) Truth (11) Regeneration, and (12) Renewing of the Mind.

There are many valuable points made in this lesson "About Simple Faith", but none as important as the point we are making right now.

The point this lesson is coming to is the need for each believer to learn the 12 Foundation Stones, which are the essential Elements of the Gospel, as Christ is identified in each foundation stone. You will not learn them now in this lesson, but later in the course Tour the Basics.

What we are doing now is laying the groundwork for that important step that you will be taking. Believers need to identify the knowledge-to-action gaps to prepare themselves for the laying of the foundation of truth in the heart.

For example, we know the scriptures that talk about grace, but what is the action of grace? We know the scriptures that talk about faith, but in many ways a believer feels his faith is not adequate. We know about the scriptures that talk about holiness, but again, there is a gap between knowledge and action. When the knowledge gap is closed you will be sure about the action of all 12 Foundation Stones.

Let me be clear: When we say Christ is identified in the 12 Foundation Stones, we are saying that God has given a specific definition to each of these Elements. When these definitions are corrupted the word loses its value and is no longer truth. It's just like spoiled food.

And that is exactly what Satan has done. He has corrupted these definitions to such an extent that man is unable to adhere to these values. That is why we need the true knowledge of Jesus Christ. We have to fill our minds with the same definitions, which are in Jesus Christ. The joy of it is that when we come in contact with the true definitions, our spiritual eyes are opened and we see that it is possible for us to please God, when we follow these values for faith.
Watch 4 Part Video Teaching by Apostle Eric vonAnderseck Below
Last Revised: 2012-06-20