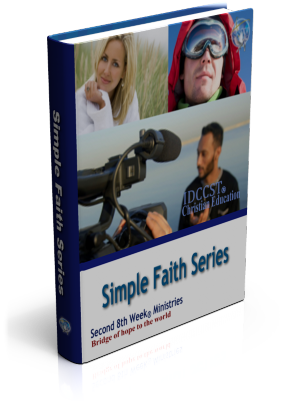 About Simple Faith - Introduction
Let's get started with this exciting lesson called Simple Faith. The goal of this lesson is to explain to you why faith needs knowledge. Whether you are a farmer, an attorney, a cake baker, plumber, or electrician, knowledge is the bedrock of your profession. The same thing is true for faith. . . because faith is the profession of Jesus Christ.
Just as your job has a function that is connected to the knowledge, so also does faith have a function that is connected to the knowledge of Jesus Christ. Jesus is the Word of God. That's why we need His knowledge.
If you are a seeker of God and want to know Him in a real and living way. . .
You will need knowledge for faith.
As we well know, knowledge is not just a starting point. As the farmer, the dentist, the lawyer, and the electrician are very much aware, their knowledge is their trade. The exact knowledge you learned to gain entrance into your particular career, is the same knowledge you need to perform your trade. Where would you be without knowledge?
Did You Know. . .Your faith has to work from the same frame of knowledge as God does. God has an expectation of forming a relationship with you and healing your soul and forming Christ in you. So He wants you to be able to connect your mind to the movement He is making.
For example, God wants you to know that He needs to speak and commune with you every day. . .God wants you to have the knowledge to make the right connection in your mind with His grace (which is His voice). He wants you to learn to expect His daily visitations with grace and He wants you to know how powerful grace is so you'll learn to work with Him and grow in His grace.
So, in order for you to make this and many other mind connections to God's work in you, you'll need to be instructed in the doctrine of Christ. . . .You'll need knowledge for faith.
Knowledge is like the hands of God, taking the clay of faith and sculpting the true and living image of Jesus Christ. About Simple Faith drives home this message about faith's need for knowledge. The lesson is divided into 3 parts:
About Simple Faith
is a 3 part series of lessons brought to you by Second 8th Week Ministries. It is designed to introduce you to the Simple Faith Courses for New Covenant believers in Jesus Christ and teach you why faith needs knowledge.
Christian fellowship begins with a firm
basis of knowledge that is shared!

Course Synopsis

The following lesson introductions will help you understand lesson objectives and learning goals so that you will know what to expect from each lesson. Students will be able to state what happens when the connection between knowledge and faith is lost and list in their journal two reasons for faith becoming complicated. Students will also be able to disambiguate faith by comparing and contrasting the outcome of the knowledge of God to the outcome of Satan's lie.
Learn how faith is made simple when knowledge unites us to God.

Students not only learn how faith is made simple when knowledge unites us to God, but they learn the 2 reasons for New Covenant Faith in Jesus Christ becoming complicated: (1) The first reason is lack of covenant knowledge and (2) the second reason is deception.
When faith is based on the knowledge God wants you to have then the fog of confusion begins to lift. In About Simple Faith Lesson One we will learn what happens when the connection between knowledge and faith is lost:
The path of conversion is misunderstood.
Truth gets lost in error, and
faith becomes uncertain.
Believers do not know what to believe about Jesus, and believers
confuse faith with feeling.
We will establish our roots firmly in what the Bible says about faith's need for knowledge by studying four key scriptures. We will then move on to:
Understand why the new man in Christ needs direction for faith.
Understand why we need knowledge to reflect Christ.
List what knowledge needs in order for us to experience the outcome:

Why knowledge needs a frame and what that frame looks like
Why knowledge needs tools and how to use them
Why knowledge needs to reciprocate
Find your purpose in God

Once you understand that knowledge is the secret to a powerful and living faith, what is the next step? The next step is to use the knowledge and start building a living faith in God. Knowledge is like a pile of wood sitting on the ground. What are you going to do with a pile of wood? You'll want to take the knowledge and start building a house of faith for the Lord to inhabit!
Did you know: The Holy Spirit inspires God's knowledge to enable you to apply it to your life? About Simple Faith Lesson Two will focus our attention on learning these things:
How knowledge is designed for you to function in God's kingdom.
What God means when He talks about the "substance" of His kingdom.
How the mind functions with knowledge.
How our thinking processes is spiritual labor.
How the nature of Christ is what man was created for and desires.
The knowledge of God is compared to the knowledge of this world.
Why the knowledge of this world cannot produce the substance of Christ.
Understand how God's knowledge is the currency of His kingdom.
Why God Wants us to identify Christ in His knowledge.
Gain understanding by observing three different perspectives
In part three we learn that man must find his purpose in God. When the likeness of Christ is not fulfilled, then purpose cannot be fulfilled, which results in lack, which then results in failure (feeling of shortcoming). Satan exploits faith by first removing the likeness of Christ from the contents of knowledge and then condemning the soul for not fulfilling its purpose. We will further learn:
What happens when the likeness of Christ is fulfilled and purpose is reached.
How knowledge is for the purpose of reciprocation.
How fellowship with God is developed.
We will expose Satan's lie that it may lose its power.
We will explain why God likens ignorance to the darkness of night.
God is making faith simple by clearing away the confusion that Satan sowed into the church of Christ. The last thing Satan wants is for you to awaken to God's knowledge, to know God's plan and to walk in it. Satan wants man to live by his emotions, which are like the sand, always shifting. But God wants you to live by His knowledge, which is the truth of Christ and which will never move. This is why it is vital that you take this knowledge and build a strong faith in Jesus Christ.
About Simple Faith: The Illustrated Version
Related Free Ebook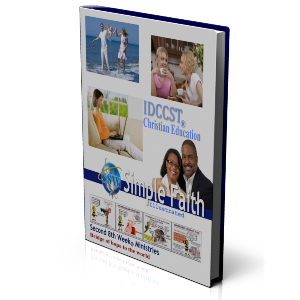 Children and Adults alike have enjoyed the Illustrated Version of About Simple Faith. Fourteen fully illustrated images beautifully convey in full color the lesson that God wants to teach us about faith's need for His knowledge.
We are eager to assist you to learn this vital truth about your faith and feel you will find the illustrations illuminating and helpful. The Illustrated Version of About Simple Faith is available by downloading the free Pdf to the right.
____________________________
We encourage you to read the three part introduction to the Simple Faith Courses that are available on this site. Each exciting course is divided into anywhere from six (6) to ten (10) lessons, followed by 2 additional Study Guides: Getting a Fresh Start and Summary Notes, both of which are packed full of information that will assist you in your faith.
Each lesson is followed by a short interactive quiz that allows you to review the information you have just studied and test yourself before you move on. You can use these review questions to help you get the most of your studies.
About Simple Faith Courses: Everything you need to know about covenant faith and how to please God is in these courses. From the elements of the gospel, to the tools of the covenant, your new priesthood, church government, the knowledge of how the flesh works, who you are in Christ Jesus, and how to overcome yourself, the world, and the devil is made readily available to you.
After you are finished reading About Simple Faith, it is suggested that you begin with the first Course "Covenant Faith". You will find the available Simple Faith Courses listed in the menu tab on the top. More courses will be added in the months to come.
The apostles prophets, evangelists, pastors, and teachers of the Apostles Today Network of the Second 8th Week are available to help you whenever you face a road block. They are praying for you in earnestness that God will assist you as you learn what it means to have faith in Him. Faith in God is a rich tapestry of His love that we find in Jesus Christ. He is there to make your faith living in Him.
Remember: Faith is not simple when it is denied life, when it is denied the things it needs to make it living. Faith is simple when it is given knowledge that reflects Jesus Christ perfectly.
Last Revised: 2012-10-31