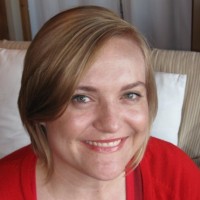 Apostle Estelle Tolmay
Visit Apostle Estelle Tolmay's Blog
For many believers it is a heartfelt desire to be as living stones in the spiritual House of God because somehow this call draws upon the deepest core of every believer. Most believers can identify with the desire to carry the likeness of Jesus Christ within the soul, to carry the design of the Chief corner stone as His living stones, but thousands in churches and outside of immediate religious circles still struggle to define the steps of achieving this very thing.

The good news is that it is no longer something outside the bounds of your faith but is within your grasp as you yield to God's grace and truth and come into covenant with God. We live in a time of revival and renewal where what Jesus has restored to the church is making His people alive unto God. "Likewise reckon ye also yourselves to be dead indeed unto sin, but alive unto God through Jesus Christ our Lord." (Romans 6:11)

It is completely possible for a believer to be placed into the wall of the House of God as a living stone, carrying the substance of true Life within. The call upon every ear that hears His voice comes with the responsibility to change. As each stone allows the Holy Spirit to wash and polish it to perfection, it can be placed in the wall of unity in faith.
The willingness and participation of each living stone means that each one contributes to the completing of the building of the sanctified House of the Lord.There is one House to be built in faith and not many suburbs with many different houses. It is God's call and desire for all to join unto Him as one body of Jesus Christ. The scriptures well attest to that in Ephesians 4.
"There is one body, and one Spirit, even as ye are called in one hope of your calling;" (Ephesians 4:4)
Maybe you too have been thinking why there are so many different Christian denominations of faith if it is God's desire for us to come into one faith?
Maybe you grew tired of this contradiction and separated yourself? It was not until I prayed unto the Lord for clarity of true faith that pleases Him, that He began to reveal Himself to me.
It is His promise to manifest Himself unto those who seek Him and this can be your experience too. The mere talk of perfect faith and overcoming sin has wearied many hearts because the words that have been embraced from the modern day pulpit have failed to quicken the stones to be living and overcoming.

Living faith is only rightly defined when it is defined in its activity. Faith is the activity of working with knowledge from above that has been sanctified by the blood of Jesus Christ to establish the believer as a living stone in the wall of His holy House. Faith can be perfect when it follows the design of its Author. This is why God has planned and chosen to raise up His government today in the form of His apostles, prophets, teachers, pastors and evangelists to publish His truth which His Spirit quickens in every heart that desires to know and love Him.

Something the Lord ministered to me was 'partake of your liberty' which still now when I reflect upon it, it causes my faith to increase and my soul to expand with His virtues of knowledge, wisdom and understanding. To partake of our liberty is to partake of the saving knowledge of Christ. It is to partake of the freedom of choice to come and live in covenant with God.

Our liberty is seen and tasted in the simplicity of one faith in Jesus Christ that confirms and glorifies Him and not man. Our liberty is made a reality as we allow the Spirit of God to cleanse us of all former false knowledge that contaminated faith so that by the anointing of His truth, a living substance of overcoming can take its form within the soul.

As an apostle with the Apostles Today Network of the Second 8th Week Iam here to help you to engage with and grow in the Holy knowledge of Jesus Christ. It is my pleasure to welcome you to Second 8th Week Ministries and I would like to invite you to stay a while and explore the richness of the restoration that God is offering the church today.

"Ye also, as lively stones, are built up a spiritual house, an holy priesthood, to offer up spiritual sacrifices, acceptable to God by Jesus Christ." (1Peter 2:5)