The Sword of the Spirit
Chief Teacher Maria vonAnderseck - Second 8th Week Ministries
The Warm Embrace of Truth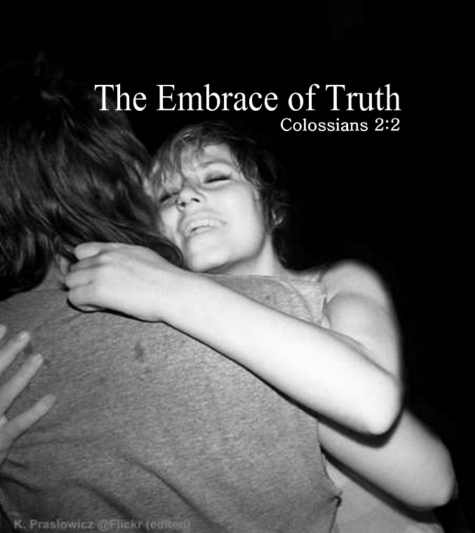 By Teacher Maria vonAnderseck
The Lord gave me a dream last night that I'd like to share with you. In this dream I was in the camp of those opposing truth, mingling amongst them, but not known. The Lord had planted me there to open their hearts to the covenant of Jesus Christ. I saw that they were involved with many things that in the natural we would normally recognize as dangerous or ill advised; something children might do in ignorance, yet the results are sadly the same.
As I walked amongst them, giving helpful suggestions and giving advice about things that are not safe I saw Jennifer LeClaire, editor of Charisma Magazine. She was busy about many things. I walked up to her and shook her hand and introduced myself saying, "Hi! I'm Maria."
Jennifer instantly pulled herself back in fear away from me and I pulled her close in a warm embrace and told her not to be afraid, God is not intending to harm her, but to help her with her faith so that she can worship God more perfectly.
At that moment, in my dream, I experienced the tremendous compassion God has for all His people who have erred from the truth. Words cannot express the deep and abounding love God has for you. Words of correction might seem harsh and uncaring, it might seem like God's compassion would surely make room for all Christian religious perspectives. But for His loves sake He brings back those who have erred in doctrine, bringing them back to their first love by cleansing them and washing them with truth.
For His love's sake means that God has already swore by Himself and will not repent, the plan He devised in His bosom cannot be changed or altered. It has already gone out of His mouth, His Christ has already performed it. This is the only plan He will empower to draw you to Himself and to cleanse you, forgive you, and take you into His house as His own.
The Terms of the Covenant Cannot be Changed
The terms of God's covenant cannot be changed and there is a use-by-date which is drawing near. You cannot love God your way and must accept the steward and truth that is empowered with the name of Jesus for your salvation to be sealed in His blood.
-- You want to love God with your passion (this represents your heart)– God wants you to love Him by embracing the terms of the covenant and truth that represent Him. He is your love.
-- You want to bring balance your own doctrine (to bring equity to your heart) – God wants you to accept the record of Christ which He has already designed for your equity. You cannot create your own equity. He is your peace.
-- You want the doctrine of substitutionism (to move the Spirit to bring your vision to pass) – God wants you to accept the gifts of His propitiation and to work with His tokens to express Christ. He is your righteousness.
-- You want truth that is accountable to the moral code (free to manipulate) – God wants you to receive truth from His steward to be accountable to Christ, free from manipulation. He is the judge of your conscience and your justification.
-- You want the stewardship of grace (your contribution to be received) before the stewardship of truth (you must received the foundation knowledge), where each believer is cleansed with truth to build the foundation and altar of the Christ in the soul. He is truth.
The Foundation and Altar of Your Faith
Without this foundation and altar your priesthood is polluted (it reflects the image of man rather than the image of Christ). He is the altar of your faith.
Without this foundation and altar you build faith with the text of scripture that is mixed with the knowledge of this world, which God does not accept for it is the measure of a man, which is the lie God will judge and put away from Him.
After I awoke thinking of the scripture from Acts 18:24-26…
24 And a certain Jew named Apollos, born at Alexandria, an eloquent man, and mighty in the scriptures, came to Ephesus.
25 This man was instructed in the way of the Lord; and being fervent in the spirit, he spake and taught diligently the things of the Lord, knowing only the baptism of John.
26 And he began to speak boldly in the synagogue: whom when Aquila and Priscilla had heard, they took him unto them, and expounded unto him the way of God more perfectly.
The church today is as Apollos, eager to provide ministry for the world to spread the name of Jesus, but doing so in ignorance of the true terms of the covenant.
When speaking of covenant, those in ministry describe covenant as having an "intimate" relationship with God, thus setting the covenant within the terms of the passion of the heart rather than the terms, knowledge, tools, and priesthood of Jesus Christ.
The covenant is Jesus and the terms whereby we are to serve God to be accepted in His name.
The ministry of Apostle Eric vonAnderseck and the apostles, prophets, evangelists, pastors, and teachers that God assigned to work with him are as Aquila and Priscilla. We are ready to teach and expound to you the way of God more perfectly.
God purposefully made this difficult for those of the moral code to accept. The stewardship has always been the stone of stumbling and rock of offense. God fulfilled that which He spoke to you, the restoration of the church would not come from your own ranks, but He would raise up someone whom you do not know and would not carry the sign of your altar. You would not readily accept the truth from this steward as it is contrary to what you have imagined that God would do for you.
Many thought they would be equal to this extreme test and went about to fulfill the word in their own power. Ministers went into the far corners of the earth to look for the hidden testimonies, those suffering persecution for having embraced the Christian faith. But these were not chosen of God to lead His people out of bondage. They were not the deliverer. You added these testimonies to the coffers of your pride, while you abominate truth and God's steward. It will be difficult for you to wash your hands of this blood.
No revival tent…
No expansion ministry…
No song or dance…
No gift…shall cleanse the hands that have shed innocent blood, saith the Lord.
I recall a dream the Lord gave me just a few nights ago. I saw a grown man with blood on his hands. In his hands he held a baby bottle from which he was drinking milk. The ministers of this current Christian culture are as this man. Their hands are full of the blood of the saints whom they slay with the sword of their false knowledge. For while their lips speaks fair words, they abominate My altar and speaks words I did not put into their mouths, saith the Lord.
God knows the hearts of all men. You might be thinking that if all you need is truth, you'll take what you want, leave the rest and do with it as you please. Some have done that. They've taken the truth God has restored to the church and added to it their own ideas, doctrines, and voice. God will not accept your faith when truth is mixed with the aspiration of man. God only accepts truth that reflects Jesus Christ perfectly. Therefore the steward of His grace is needed to ensure that truth stays pure as it was given from the throne of God.
You may message me via Facebook or begin to learn the foundation of truth by utilizing these links.
What it means to come into covenant with God..
CLICK HERE
Tour the Basics. Learn the 12 Elements of the Gospel… CLICK HERE
Photo credit: K. Praslowicz @Flickr (edited)

Comment, Share, or View Content Related to this Post
Contact Author... comming soon
Blog Post in the Covenant Faith Category
15 Reasons Why A Good Prayer Life Is Important For Your Christian Walk
Building a good prayer life is important because it is token from God for your increase. Therefor it is very necessary to understand it function and how it benefits a Christian in his walk of faith. With a good prayer life we can be prosperous in the things of God. more...
Change
Do you think that the church is any different than the world? When the gospel of Jesus Christ is preached in truth, you can expect change. more...
An introduction to The Covenant of Christ
Covenant, a word so widely used amongst Christians today. But could it's meaning be misunderstood as much as The grace of God is so widely misunderstood? The answer is yes. more...
Why Jesus Christ Is The Mountain Of The Lord
Many are looking to the mountain of the Lord which is a place of good tidings. We can see why Jesus Christ is our spiritual landmark being our compass and our reward. more...
True Conversion vs. False Conversion
How many Different denominations do you think are in the world today? We read in the bible about one faith, but with so many choices it can seem hard for someone to make sense of it all. What is the true path? Faith follows a predictable pattern and we look for that pattern in our faith daily. God gives evidence to our faith to tell us that we are on the right track. more...
The Responsibility of Salvation
Salvation requires our participation, for although salvation is free, it is not free from our responsibility. more...
We serve a God of covenant
God has always established a covenant between Him and an individual or a nation. With each covenant God has always given man a responsibility, that he may show faith in God and walk in agreement with Him. more...
The Tradition of The Spirit vs. The Tradition of The Flesh
Do you know how to describe the contact points of the second Covenant? Are they visible or invisible? What tradition does the Holy Spirit follow today, the law of Grace and Truth or the Law of Moses? Learn to taste the sweetness of God's mercy in the new traditions of faith found in Jesus Christ. more...
God's Gospel is preached through all Creation-part-1
There's nothing like a mystery to intrigue the mind of man and, being intrigued, to search for the key that unlocks the mystery. The hidden wisdom of God, God's gospel, is the knowledge that unlocks the mystery of man's origin, purpose and destiny. All creation preaches this hidden wisdom but God designed only one power that would bring understanding to the heart: His grace and only one source where this mystery is revealed: in Jesus Christ. Know the mystery of Christ and you understand God's gospel. If the search has wearied you, you'll find rest for your soul in the knowledge of Christ. Learn more about how God's gospel is preached in all creation. more...
The perfect will of God
The perfect will of God is that we walk in His covenant and daily serve Him in Spirit and in truth. This is His will and good pleasure and therefore He deems all righteous, who do so. more...
The Two Covenants
The Old testament and the new testament and their relevance to the first and second covenants between God and His people more...
Additional Blog
Additional Blog
Additional Blog
Additional Blog
Additional Blog
Additional Blog
Additional Blog
Additional Blog
Additional Blog
Additional Blog
Additional Blog
Additional Blog
Additional Blog
Additional Blog
Additional Blog
Additional Blog
Additional Blog

Chief Teacher Maria vonAnderseck
Maria vonAnderseck serves the Body of Christ as a confirmed Teacher in the government of God. She is co-founder of Second 8th Week Ministries, IDCCST® Christian Education Curriculum author, co-author of the book Breaking the Anti-Christ: The Blueprint of Deception and soon to be released book The God-Code: The Secret of Life. She is a regular contributor to the Prophetic Path and teaches Leadership and Body Ministry. She is co-founder of Apostles Today Network of the Second 8th Week®, ministering the grace of God to those seeking to build upon the true foundation of Jesus Christ. As God brings the church into a new era, Chief Teacher Maria is here to help guide your faith into the new work of the Spirit, pray for you, and answer your questions.
Last Revised: 0000-00-00